BACK! With Eels. Old Eels, but Good Eels.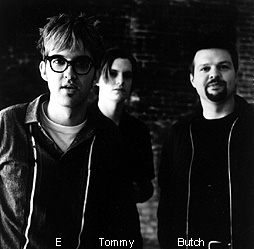 Hi Folks! Yes i'm back. Back back back. From an ACE holiday in Nashville. I've got loads of good new music coming up in the next few days, but tonight i'm still unpacking and sorting things out and i'm of course pretty tired. Therefore I thought i'd repost some old stuff that i'd been getting a lot of requests for. The original post is copied below to give you the info. Enjoy!
I am too good to you. Here is a BBC Radio broadcast of the first Eels lineup at the Reading Festival in 1997, which was a performance as part of the Beautiful Freak tour. Now i've detailed my very long love for the Eels in other posts, so I won't go into it again, but I will say that this one reaaaally takes me back as it's one of the first bootleg tapes I ever received from someone, back when the only Eels discussion forum online was a mailing list called Spunky. It's a great show because you get to hear how the band liked to mess with audience expectations even at their earliest stages. So we get a spoken word Novocaine and a bossanova My Beloved Monster. As they only had one proper album, we also get a few rare performances of old E solo songs (Looking Out The Window... and A Most Unpleasant Man), the ace original song Thirteen which is STILL unreleased to this day, as well as some choice covers. There's stuff from Daniel Johnston, Prince, Sophie B. Hawkins and (Little) Stevie Wonder. Hope you like the show!
Eels - 01 Not Ready Yet (live)
Eels - 02 Novocaine For The Soul (live)
Eels - 03 If I Was Your Girlfriend (live)
Eels - 04 Fingertips Part III (live)
Eels - 05 Susan's House (live)
Eels - 06 Guest List (live)
Eels - 07 Livin' Life (live)
Eels - 08 Mental (live)
Eels - 09 Thirteen (live)
Eels - 10 Looking Out The Window With A Blue Hat On (live)
Eels - 11 My Beloved Monster (live)
Eels - 12 Flower (live)
Eels - 13 A Most Unpleasant Man (live)
Eels - 14 Damn I Wish I Was Your Lover (live)
Eels - 15 Rags To Rags (live)