Peel Session: Meanwhile, Back In Communist Russia (2001)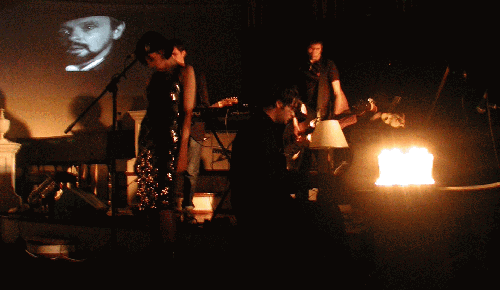 Wow! The one week where i'm bogged down with gigs, illness and awful train schedules, and it's the same week that this blog is featured in both the Guardian and in Q Magazine and I finally start getting lots more visitors. Crazy days folks! Tonight's bumper edition (bumper because they're SO GOOD) of musical goodness is a Peel session from the utterly ace Meanwhile, Back In Communist Russia. MBICR were a post-rock 6 piece who formed in Oxford in 1999. Mixing sampling with mogwai style buildups and Godspeed-esque monologues, the band released a split single with Moonkat in early 2001 which soon gained airplay on XFM and the Peel show. After another single proper was released, the band were invited onto the Peel show for the session below (the first of three on the show!). The band's debut album
Indian Ink
came out in the summer of 2001, and the track
Morning After Pill
came in at number 11 in that years Festive 50. By the time the band came to release their second album,
My Elixir; My Poison
, in 2002, they had shrunk to just four members, and although they struggled on for a while after, they seemed to lose their momentum, and thus played their final gig in London in 2004. Since then members of the band have played in Mesaplex and Ape Has Killed Ape!.
This session was recorded on the 17th June 2001, and is the first of 2 sessions from the band that I will be posting. Hope you like it folks! (and hello to all my new sparkly Q reading readers).
And if anyone from Q is reading, hows about BEING GOOD FOR A CHANGE?!?! ROFL. ahem.
Meanwhile, Back In Communist Russia - 01 Blind Spot (Invisible Bend) (Peel session)
Meanwhile, Back In Communist Russia - 02 Ode (Peel session)
Meanwhile, Back In Communist Russia - 03 Sacred Mountain (Peel session)
Meanwhile, Back In Communist Russia - 04 Delay Decay Attack (Peel session)
Meanwhile, Back In Communist Russia - 05 Acid Drops (Peel session)