Peel Session: Public Image Limited (1979)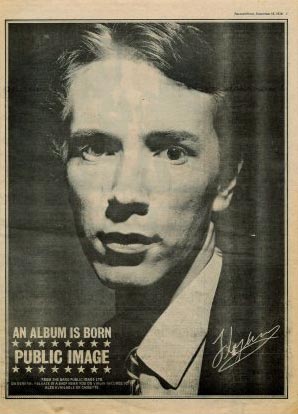 My apologies for my badness in updating recently; had a mega busy week last week followed by a nasty cold this weekend, so it's been a bit of an effort to drag myself to the PC and find something to write about. Thankfully i'm just about recovered now, so can give you something uber-special.
Whilst Mr John Lydon is out and about pimping the Pistols circus again, it's always nice to remember when he truly was one of the most interesting MUSICAL figures in Britain; someone who made revolutionary sounds as well as the constant talking of talk. For their first three albums at least, Public Image Limited were one of the most exciting almost-mainstream British pop bands of the 70s/80s. If you haven't heard
Metal Box
by now, you're missing out big time.
This Tony Wilson produced 1979 Peel session (their only session for him) highlights the classic Lydon/Wobble/Levene/some-drummer lineup pretty much perfectly, with two songs from
Box
and one from the debut. Some people prefer these recordings to the album versions, and there's certainly something to be said for Levene's great synth work on this version of
Careering
. See what you think...
Public Image Limited - 01 Poptones (Peel Session)
Public Image Limited - 02 Careering (Peel Session)
Public Image Limited - 03 Chant (Peel Session)