New Band Alert: Meg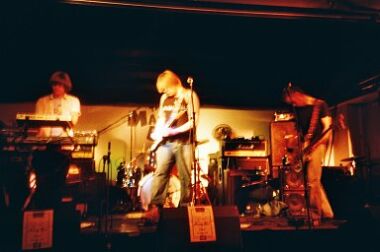 Meg are an indie-pop band with electro and lo-fi influences who hail from the wonderfully named Kidderminster. LOL. A four-piece, they've been around for about five years now, and I was really impressed by the new EP they're just about to release. It sounds far more interesting than you'd imagine from a band who haven't had much nationwide success in a longish period of playing. Their own press release lists quotes comparing them to Weezer, Pavement, Grandaddy, and indeed i'd say those are all some pretty prevalent influences (always a good thing!). Along the way the band have supported Jawcrew and Quasi, and they're about to play some headline dates in the next few months, including a show at London's Hope & Anchor in April.
Recording wise, they've only actually released one single. The new EP is called
You Are The Teacher
and is very very good indeed, and another EP is promised for later in the year. You can get more info at the bands
myspazz
or their
official site
.
Meg - You Are The Teacher
Meg - Firework In Progress